SUP (Stand Up Paddlng)
SUP is a popular activity and a great way to experience the ocean. SUP boards allow you to cruise along the sea, with excellent buoyancy and stability, you can sit, kneel or stand as you row your own board to whereever you like. Enjoy various cruises while soaking up the beautiful scenery of Takahama along the way.
Recommended spots are Shiroyama Park's '8 caves' or Wakasa Wada's 'Blue Flag'beach.
Why not try "walking on water," with a SUP experience.
Sea star
The staff who is fluent in English will have a fun lecture! Because it uses the whole body, it can be used for aerobic exercise and effective for dieting and refreshing.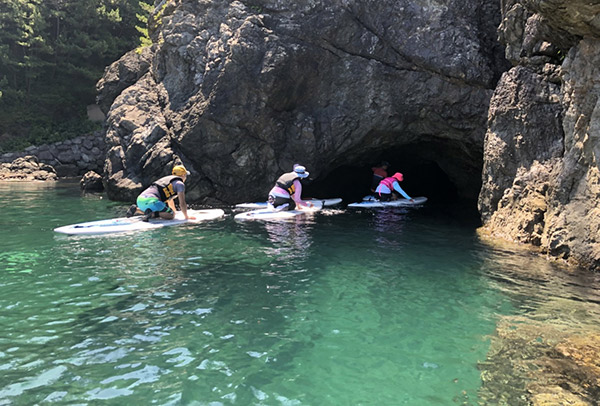 hotstyle
This is an experience tour and school where you can safely enjoy touring caves and rocky beaches while enjoying the scenery of Wakasa Bay which is characterized by the ria coast overflowing with nature on SUP. Our skilled and experienced staff will help you navigate safely as a lecturer!