Mt. Aoba
This symbol of Takahama, is nicknamed "The Mt. Fuji of Wakasa" because of its beautiful cone shape which is reminiscent of Mt. Fuji. In fact, Mt. Aoba has 2 peaks, the east peak (693 m) and the west peak (692 m), and as it can be seen from almost anywhere in town, the shape and scenery of the mountain varies greatly depending on where you are. Seen from the Takahama area, the sun setting over Mt. Aoba was selected as one of the "Top 100 Sunsets in Japan" and the scenery of this beautiful mountain soaring up along the Japan Sea is a must for anyone visiting Takahama.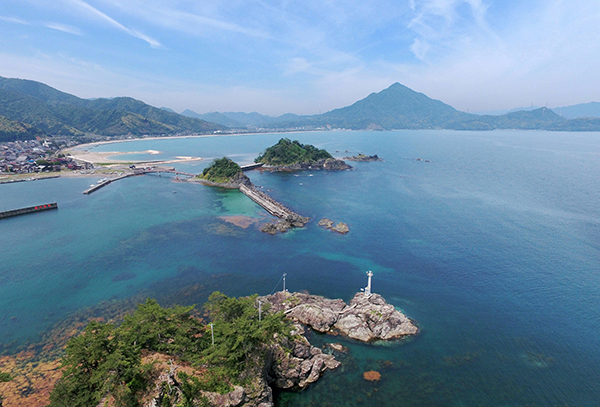 Hiking Mt. Aoba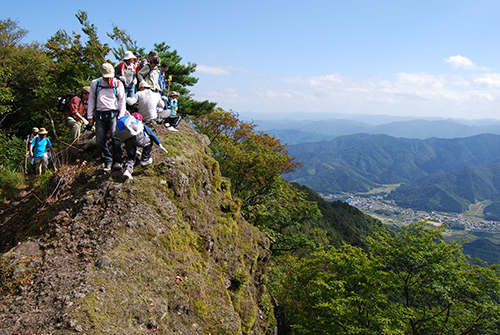 There are a variety of hiking trails, from the east peak to the west peak, and you can enjoy the thrill of walking through the rocks, from the top of the mountain and the points along the way you can see the superb view of Uchiura Bay, the coastline of Takahama-cho and the townscape, and if the weather is good you can see Tsuruga Peninsula and Echizen Cape in the distance, and many climbers visit during the season.
Climbing Mt. Aoba with various attractions is popular among beginners and advanced climbers.
Mt. Aoba is also home to about 500 kinds of medicinal plants, and you can see rare plants such as the natural monument of Reika Okane.
Mt. Aoba Hiking Map
Climbing Mt. Aoba (external site)
ピン!ト
Three females climb Mt. Aoba for the first time! There are many pictures, so it's easy to imagine climbing Mt. Aoba.
Aobayama Herbal Village
A mountain retreat where you can learn all about Mt. Aoba's wild & medicinal plants.
Details
| | |
| --- | --- |
| Contact | Takahama Town: Department of Industrial Promotion 0770-72-7705 |
| Address | Seikyo area, Takahama-town (northeastern part of Kyoto Prefecture) |
| Parking | 50 cars (Aobayama Herbal Village) |