Hamanasu BBQ Park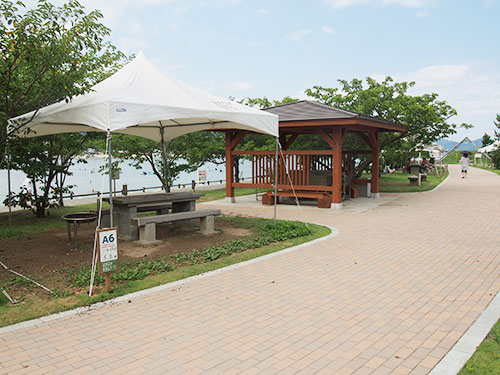 ※ Summer 2023 Reservations start on June 1st
※BBQ Site open from 8th July – 20th August.
Spacious outdoor BBQ facility right on Wakasa Wada Beach. Equipped with toilets, washing area, garbage station and BBQ stoves.
To make a reservation, please use the following websites reservation form.
Reservations (Japanese)
*We are open only during the summer. It is prohibited by law to have barbecues during other periods.
Rental time
9:00~16:00
(The parking lot for the beach will close at 18: 00)
Site map

Rental fee
Site rental fee
(1 day)
Type A


Fixed table / benches, permanent stove,
sun tent
5,000円
Type B
Place rental only
2,500円
Goods for sale
BBQ grill mesh
30×45cm
1,000円
Charcoal
3kg
600円
Type A(12 lots)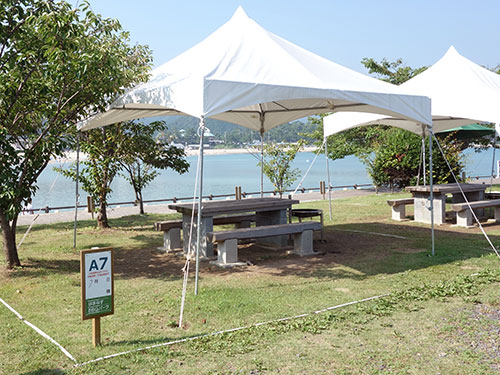 Set includes: Table with benches, stove, shade tent, fire igniter and water gun.
Type B (27 lots)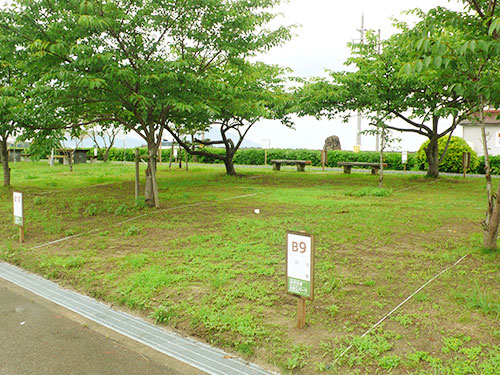 Space Rental only:
*There are lots with shade and lots without shade.
Wash station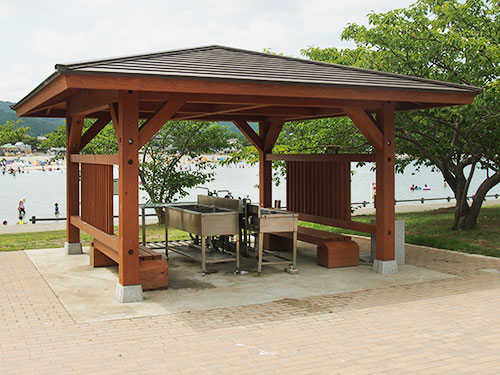 (This is a temporary wash station)
Garbage and charcoal disposal station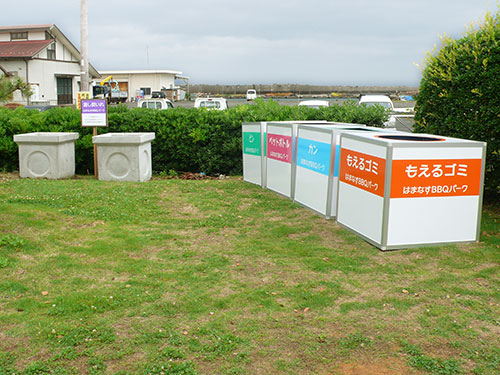 We ask for your cooperation in keeping the site clean and tidy.
Important points
Please let us know if you cannot enter by 12 o'clock. Please note that other customers may use the service if you do not contact us.
This facility is a pay facility that has been opened with the permission of Fukui Prefecture. It is prohibited by law to set up tents or tarps and barbecue outside designated areas.
Please make sure to apply at the reception when you use it.
For the availability of ingredients and equipment, please inquire directly to the above reservation/application address. There is no charge for bringing your own food.
Please be sure to bring used charcoal to the cinder station. Never bury it in the ground.
Please return the rented items to the reception when you leave.
In other emergencies, please follow the instructions of the staff.
Details
Contact
Contact during summer season: July 6 to August 25: 0770-72-4653 (Wakasa-Wada Campsite)
Contact during other seasons: 0770-72-0070 (Wakasa-Wada Tourism Association)
Address
124 -48 Wada, Takahama-town
Parking
There is no private parking lot for the barbecue site.
There is a large parking lot right next door, so please park there.
It can accommodate about 300 cars.
(The car-park is managed by the Wada Branch of the Wakasa Takahama Fishery Association)
*There is a separate parking fee.