Shiroyama park & Meikyodo Cave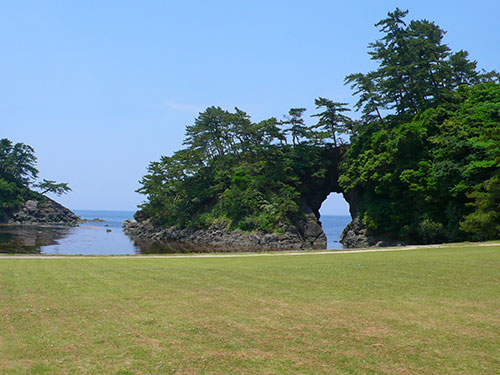 Shiroyama Park was originally the site of Takahama Castle, which was built in the Muromachi Period. It has a wide lawn area, and beautiful scenery such as "Meikyodo Cave," and promenades along the sea. If you walk on the promenade, there is an observation deck where you can enjoy the view of various strange rocks and Wakasa Bay. It is also selected as one of the 100 most beautiful sunset views, and you can enjoy the beautiful sunset over Mt. Aoba. It is a spot where you can enjoy fishing and there are many ways to play.
The 8 Caves of Shiroyama Park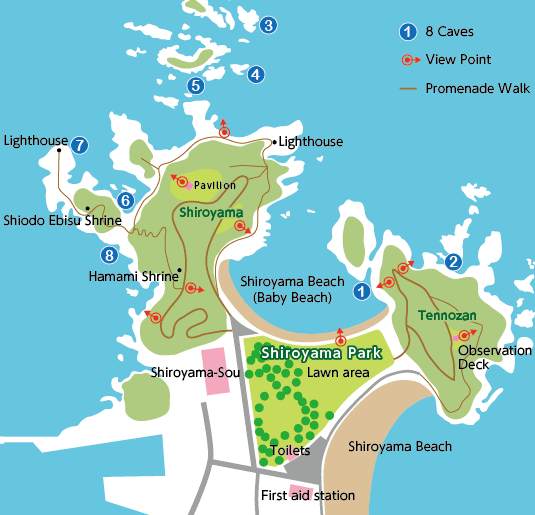 Shiroyama Park has eight caves called "Yana-no-Kisho," that have been created naturally over many years of rough waves of the Sea of Japan. In particular, one of the caves, "Meikyodo" has formed a beautiful natural arch, which gives the effect that one is looking into a mirror, which is how the cave got it's name. At night, fires from the local fishing boats light up along the horizon, creating even more fantastic scenery. It is said that Yoshimitsu Ashikaga, the third Shogun of Muromachi Period also visited here.
Scenic Spots
Details
| | |
| --- | --- |
| Address | 高浜町事代 |
| Access | JR若狭高浜駅から徒歩で15分 |